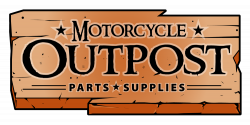 1016 Gap Newport Pk, Cochranville PA 19330
Phone 610-593-5939 Fax 610-593-5938
"Stay Tuned"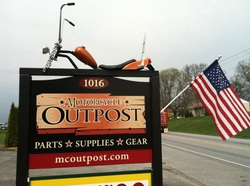 Hello and Welcome
A little something about Motorcycle Outpost...
We are much more than parts and supplies for you and your bike. Motorcycle Outpost offers some cool services
to help you complete the project going on in your garage.
Whether it's repairs, maintenance, customizing or building,
we're your motorcycle parts supply shop.
Small on size, BIG on service.
---

Parts and Supplies for All Years and Models of Harley Davidsons
Including Classics and Antiques.
Riding Gear
Swap Shop
Tool Rentals

Learn more by clicking on the links at the top of this page. Thanks for stopping.


Motorcycle Outpost is not an authorized agent or in any way associated with Harley-Davidson® Motor Company Inc. The words Harley Davidson¨ and all HD® and OEM part numbers, model names, designations, and illustrations are used in reference only and are not to imply any source of manufacturer.

What's Going On Around Here?

Upcoming Events


Aug 30 Ride For Sophia Benefit Ride
Ride and Buffet, Door Prizes, Raffles and Entertainment
Registration 9am Akron Church of the Brethren Ride ends at Kinzers Station
info Mindy Min2213@gmail.com

Sept 6 Miracle Hero Poker Run and Benefit
Poker Run Registration 9:30am
Food, Music, Refreshments, Raffles and Silent Action 1-6pm
Eastern Lancaster County Rod and Gun Club, Smyrna Rd Kinzers PA
Info and tickets- Amanda 717-672-6824


Sept 6 "Ride For The Arc"
All proceeds directly benefit The Arc of Chester County's program and services!
Registration 10am at The Arc, 900 Lawrence Dr, West Chester PA 19380
Info Amanda 610-696-8090


Sept 7 Piston Poppers Motorcycle Racing
Parkesburg PA, Racing Starts at Noon
info Curt 484-336-9160 Facebook Piston Poppers MC


Sept 11-14 Delmarva Bike Week
Concerts, Entertainment, Stunt Teams, Exhibitors, Attractions,Vendors
www.ocbikefest.com


Sept 20 Eva's Tour for a Cure Motorcycle Poker Run and Beef and Beer
Poker Run 11am, Beef and Beer 12pm
Family Event! Moon Bounce, Face Painting, Prizes and Raffles
Christiana American Legion, Christiana PA 17509
info 484-883-8139 or mikewnelsonjr@gmail.com


Sept 20 Angela Lee's Motorcycle Rodeo and Pig Roast Benefit
Rodeo starts at 12 noon, Pig roast at 2pm
Slow Ride/ Keg Roll/ Weenie Bite/ Jousting- 50/50, Door Prizes and Trophies
1595 State Rd, Oxford, PA 19363
Info Gnome 484- 643-9853





PRORIDER Advanced Motorcycle Skill Course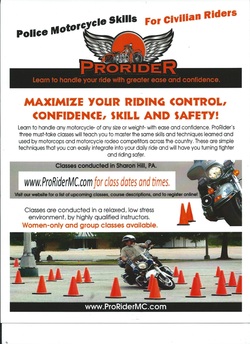 For Experienced Riders Who Desire to Take Riding to the Next Level
Sharpen Riding Skills
Learn New Techniques
Improve Confidence
Guaranteed to Improve Riding Ability

Same training exercises used by police motorcycle officers and motorcycle rodeo competitors

Call 484-315-8120
www.ProRiderMC.com




---
Up and Running
Motorcycle Outpost is ready to serve all your Vtwin needs.
Stop in have a look around and talk to us about your bike plans.
Map out your ideas and we'll gather the parts you need to get there. Stay Tuned.

To the Top